Upcoming Events
---
K-16 University Partners Meeting: Early Literacy
We are excited to announce that PHENND and the School District of Philadelphia are holding the next K-16 University Partners Meeting on Wednesday, December 11th, 3:30PM-5:00PM at 440 North Broad Street. The theme of this meeting comes directly from one of the District's stated top priorities: Early Literacy.
The PHENND University Partners Meeting is a new initiative that brings university, nonprofit, and school-based practitioners together around common themes. Goals for this and all future K-16 University Partners meetings are:
provide practitioners with "take aways" (e.g. ideas you can adapt for use in your own programs)
exposure to new and innovative programs and practices
introduction to key School District personnel
Presenters and "take aways" for this meeting will be:
How to engage older youth in early literacy Jan Steinberg, retired teacher and founder of Literacy Corps. Literacy Corps engaged older youth in addressing both their own literacy as well as those of younger children
How to support parent involvement in early literacy Representatives from the Philadelphia Writing Project at Penn will talk about an initiative at W. D. Kelley School (also a PHENND AmeriCorps*VISTA project site) to create small groups of parents working on supporting early literacy strategies in the home. Speakers will be Michele Bell, teacher at the Powell School in West Philadelphia, and Mattie Davis, teacher at the William Dick School in North Philadelphia.
Doria Mitchell from the School District's Office of Early Childhood Education will provide an update on District initiatives and strategies.
Attendees will have the chance to ask questions to all presenters, network with peers and obtain concrete information on early literacy strategies.
Who should attend?
University faculty, staff and students who work with young children (pre-K through 3rd grade) as well as those working with older youth and families but who are interested in engaging them in early literacy.
Non-profits and community programs focused on early literacy who are interested in partnerships with colleges and universities
K-12 teachers, administrators and staff interested in community partnerships for early literacy
We hope you will join us. Please RSVP here: https://docs.google.com/forms/d/1wD1T9I9z54BZI3IhqhsGNHhHbSXjUub47ZpQCfc04/viewform
---
25th Anniversary PHENND Conference
Early bird registration is now open for the 25th Anniversary PHENND Conference! The conference will be February 13-14, 2014 and will take place at both the University of Pennsylvania and Drexel University.
The theme will be "Anchor Institutions: A Regional Approach" and will draw participants from around the country.
Early bird rates apply through December 31st. Register today!
A room block has been reserved at the Sonesta Hotel Philadelphia, located at 18th & Market Streets in downtown Philadelphia, for $139/night plus tax. The Sonesta is a short cab ride to Penn and Drexel; public transit between the hotel and both campuses is direct and easy. To reserve a room in the PHENND block, please use this link: https://gc.synxis.com/rez.aspx?Hotel=56921&Chain=5157&arrive=2/12/2014&depart=2/14/2014&adult=2&child=0&group=0212PHENND
View the conference program booklet from the 20th Anniversary Conference.
Call for Workshops
We are looking for individuals who plan on attending the PHENND CONFERENCE: Anchor Institutions: A Regional Approach, to be held February 13-14, 2014 to research, design, and lead paper presentations and workshops. This gathering will be attended by a national audience of 150-200 students, campus staff, faculty, and others who are active in community development, community service, service-learning, and campus-community partnership work. Over the course of the two days, a limited number of hands-on workshops will be offered to participants to complement plenary sessions and panels.
Many conferences have detailed the role single Anchor Institutions have played in various communities across the country, whether it be Penn in West Philadelphia, Johns Hopkins in Baltimore, or Harvard in Cambridge. For this conference, we are interested in exploring questions related to multi-Anchor collaborations, particularly in larger, metropolitan areas with more than one Anchor. What does this look like in metro New York or Los Angeles? How can Anchors effectively work together, despite different resources, interests, and histories? How can cities and city governments work with these collaborations? What does this look like on a municipal scale vs. a metropolitan/regional scale? What happens to neighborhoods within these regions that have no Anchor?
Proposals are due Monday, December 2, 2013.
The conference will be held at both the University of Pennsylvania and Drexel University.
View the call for proposals here: https://docs.google.com/forms/d/1NPrAKKYq_0L8HY6lhzno7wQWelpfKPVcqnaEmLSxQVY/viewform
Keynote Speaker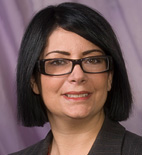 We are pleased to announce that this year's keynote will be Lillian Kuri, Program Director for Architecture, Urban Design and Sustainable Development at the Cleveland Foundation. The Cleveland Foundation is a driving force behind the Greater University Circle Initiative, which you can learn more about here: http://www.clevelandfoundation.org/?yt=NDazrebWELg
Lillian Kuri is currently the Program Director for Architecture, Urban Design and Sustainable Development at the Cleveland Foundation. The Cleveland Foundation is the oldest and one of the largest community foundations in the United States. The Foundation is dedicated to enhancing the quality of life in Greater Cleveland.
Lillian Kuri joined the Cleveland Foundation in 2005 as a consultant to develop a comprehensive strategy for one of the foundation's priority initiatives: the revitalization of the Greater University Circle area – one of the nation's largest and most comprehensive anchor-based initiatives – involving cross cutting issues such as transportation, mixed-use development, housing assistance, education, sustainability, community wealth, and economic inclusion. This initiative includes a path-breaking and innovative "buy-local" model of inclusive economic development and job creation. The strategy includes supporting local businesses though supply chain attraction and retention initiatives in the Health Tech Corridor and "growing Cleveland's own businesses" through the "employee owned" Evergreen Cooperative Initiative. The first to launch are the Evergreen Cooperative Laundry, Evergreen Energy Solutions and Green City Growers Cooperative – the largest urban food production greenhouse in the US.
Lillian also manages a new foundation initiative in partnership with the Northeast Ohio Regional Sewer District related to NEORSD's $3 billion, 25 year project to remove the combined sewer system, including new stormwater practices and green infrastructure. Lillian continues to work on foundation strategies for innovative uses of capital, energy efficiency, vacant land reutilization and local food.
---
PHENND's First Infographic all about the Scholars in Service to PA AmeriCorps Program